Raksha Bandan also named Rakhi festival, where Rakhi itself is called a 'thread of love' between brothers and sisters and any brother-sister relationship between men and women who are relatives or biologically unrelated. It's a Hindu and Jain festival also called Rakhi Purnima celebrated in many parts of India, Nepal and Mauritius. 
Raksha Bandhan is an ancient festival, and has many myths and historic legends linked to it. For example, the Rajput queens practised the custom of sending rakhi threads to neighbouring rulers as token of brotherhood. On Raksha Bandhan sister ties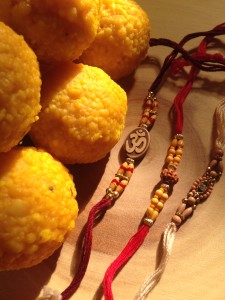 a rakhi on her brother's wrist. This symbolizes the sister's love and prayers for her brother's well-being, and the brother's lifelong vow to protect her. The festival falls on the full moon day (Shravan Poornima) of the Shravan month.